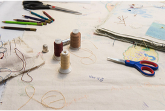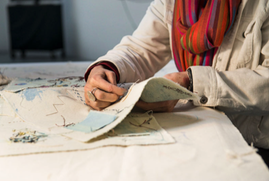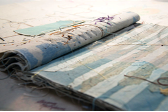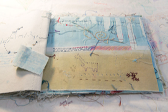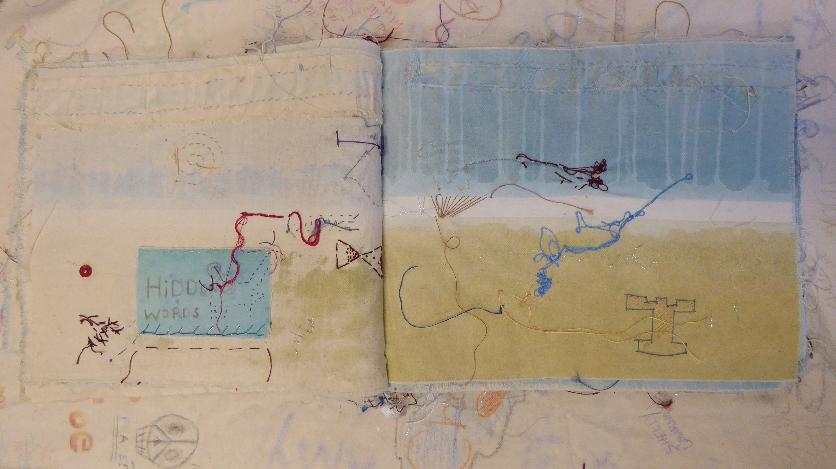 Metramorphosis, as developed and defined by artist & philosophy Bracha L. Ettinger, is being in the process of creation and becoming with other, whether human or other-than-human.
The pages of the socially engaged art book titled Metramorphosis, have been inviting people to cross the threshold of of its canvas pages to stitch / thread/ tie themselves into the ongoing conversation this unfinished book, that is ever becoming, elicits and holds. Any of the 22 pages can be sewn into.
Signatures of stitchers are signed onto the canvas cloth the book rests on when displayed and is wrapped within when on the shelf. The book is bound by buttons that can be unbuttoned and re-buttoned. Each time the book is un-bottoned the pages rearrange themselves eliciting an/other reading.
The book has traveled to many locations internationally since 2011. It has been displayed, stitched into, and been tactile and visually read by hundreds in art galleries, homes, university classrooms, conferences, and retreats.
2011 - Carbondale, Illinois, USA
2012 - Chicago, Illinois & Poplar Grove, Missouri, USA
2013 - Victoria, British Columbia, Canada & Champagne, Illinois, USA
2014 - San Juan,Puerto Rico
2015 - Vancouver & Courtenay, British Columbia & Edmonton, Alberta, Canada
2016 - Toronto, Ontario, Canada & Edwardsville, Illinois, USA & Alexandria, Egypt
2017 - Banff, Alberta, Canada
Banff Centre for the Arts, BAiR residency, Open Studio, October, 2017.