Introduction
"Feminist art focuses on people as wholes;
the human is made up of body and emotion
as well as mind and spirit."
Marilyn French
I understand and experience art making to be a co-relational and performative ritual act. My art and inquiry projects to date have focused on socially-engaged art as public pedagogy, collaboration, and restorative and transformative learning. I have a particular interest in the problematics of representation of the human body in art and how embodied relationships with others, the environment and our selves, are represented, performed and understood in society. In many of these projects, I have worked with artists from diverse disciplines (i.e. dance, theatre, visual arts, creative writing, music), and with community members of all ages.
The past, present and future of my artworkings are devoted to understanding art and writing as an embodiment of sharable co-encounter events that hold possibilities for individual, cultural and environmental re-attunement, critical inquiry, healing and transformation.
Barbara Bickel

Exhibitions, Screenings & Books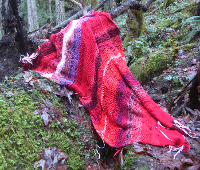 Muted Colours of Grief

April 12 2023 at 4pm PST
Film Screening & Discussion
with creator Barbara Bickel & soundtrack creator Richard Bickel
Hosted by Apocatastasis Institute
________________________________________________________________________

Art-Care Practices for Restoring the Communal

Book Conversation
Connective Aesthetics
& Co-Inquiry

with co-authors Barbara Bickel,
R. Michael Fisher and
Celeste Snowber
April 28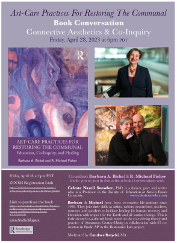 ________________________________________________________________________
BOOK LAUNCH April 3 2023 at 1pm PST

Join co-authors
Barbara Bickel
and
R. Michael Fisher
with Foreword writer
Bracha L. Ettinger
and Afterword writer
Geraldine Burke
in conversation regarding the 2023 released bok
Art-Care Practices for Restoring the Communal: Education, Co-Inquiry & Healing

View Recording

_______________________________________________________________________

New 2023 Book
Art-Care Practices for Restoring the Communal: Education, Co-Inquiry and Healing
Co-authored by Barbara Bickel & R. Michael Fisher
Published by Routledge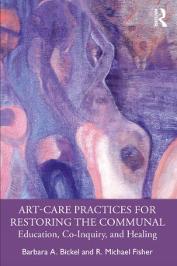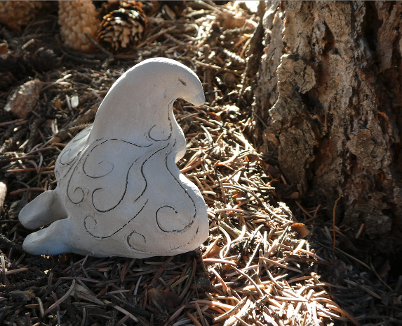 Avian Ancestress at foot of spruce tree

the tenacity of
dropping
to
ones' knees
in
attendance to
other

Performative ritual enactment with raw clay figurine as part of a Creation Research project. Barbara Bickel, photograph fall 2020
Art, Ritual and Trance Inquiry Book Blog
a place for sharing events, conversations and teachings based
on the book

with R. Michael Fisher
Studio M*

a research creation lab intersecting arts, culture & healing
with R. Michael Fisher
with the Gestare Art Collective 2015
a community-engaged art project with the Gestare
Art Collective 2011-
Explorations of art, place and relationality 2015-2019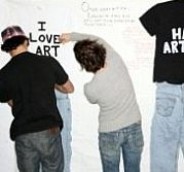 Student's Art 2010-
Copyright Barbara Bickel 2018